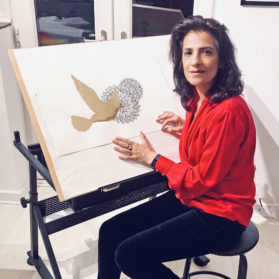 "Art can penetrate the deepest part
of us where no words exist". – Ashima
Ashima Kumar is a dynamic and pioneering contemporary artist who is reshaping the world of fine art and graphic design through a unique fusion of traditional influences from Asian cultures and digital media. Her captivating works are constantly evolving, driven by a deep connection with nature and a profound exploration of spirituality and human psychology. Inspired by the beauty and intricacy of nature, her artistic expressions are characterized by expressionist strokes and intricate fine-line patterns, aimed at evoking an emotional response and igniting the imagination of those who engage with her creations.
At the core of Ashima's artistic exploration lies a profound examination of spirituality and human psychology. Fearlessly delving into the depths of consciousness, she explores the intricate relationship between the physical and metaphysical realms. Her art serves as a catalyst for introspection and self-reflection, inviting viewers to question their own existence and ponder the mysteries of life.
Having embarked on her artistic journey with formal art education at Delhi's College of Art, Ashima honed her skills and developed a critical eye for conceptualization, design, and execution. Embracing the visionary spirit of contemporary art pioneers like Yayoi Kusama, Takashi Murakami, and Joan Miró, she fearlessly pushes artistic boundaries. She creates immersive experiences that capture audiences.
Ashima's creations have garnered significant recognition and appreciation through their showcase at prestigious art fairs and exhibitions, including the Louvre's Focus Art, the Swiss Art Fair, Art Basel Miami, and the Flux Exhibition. These platforms have empowered her to share her artistic vision with a vast and diverse audience. In addition to her successful participation in these events, Ashima's talent has been acknowledged through various art awards, further establishing her as a remarkable artist. Her artworks have also been featured in respected publications such as Aesthetica, Flux Review, Spotlight Magazine, and 365 Art+ Magazine, expanding her influence and reach. With her profound impact on the art world, Ashima's captivating creations continue to strengthen her position as a highly respected and influential figure in the contemporary art scene.
With her authentic artistic voice, Ashima redefines the contemporary art landscape. Through visually compelling narratives that transcend conventional norms, she captivates viewers, prompting deep introspection and inviting them to perceive the world through a fresh perspective lens. Her achievements and studies have contributed to her growth as an artist. This has allowed her to develop her own artistic style that combines Asian influences, fine art studies, and explorations of contemporary abstract techniques.
Art Exhibitions
Flux Exhibition 2023 (London)
New Beginnings, Headstone Manor Museum (London)
Exclusible Icons, (VR Exhibition), Rome, Italy
Adrenocromo for dinner, M.A.D.S Gallery, Milan, Italy
ArtBox Contemporary Artists (VR Exhibition) (Portugal, Lisbon)
Focus Art Fair- Boom 2022 (Lourve, Paris)
Flux Exhibition, Summer (London)
Art at Your Doorstep, Headstone Manor Museum (London)
'The Online Bath Art Show' by Art Gallery SW, (UK)
Art at the Theatre, SKT Gallery (London)
Art Basel Miami 2019 –Design +, (Florida)
Swiss art Fair (Zurich)
Fusion V (London)
Flux Exhibition (London)
Earth tones (London)
Art Basel Miami 2018, (Florida)
New Artist Fair (London)
Art Elements (London)
Universal Language II (London)
Group Show (London)
Fusion IV (London)
Talented Art Fair (London)
Yes Art Can (India)
Awards
Harrow Arts Centre: Artists' Lockdown Commission, 2020, London
Cloud in the Box Lockdown Potrait Award, 2020, India
#HACfromhome Spring Commissions, 2021, London
Faces of Peace Art Prize – Contemporary Art Curator Magazine